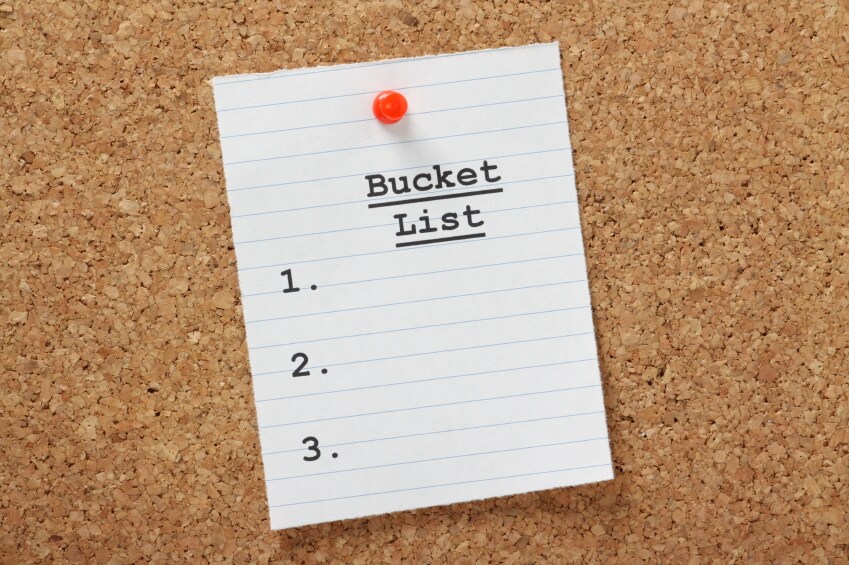 If you love to travel, creating a travel bucket list is always a fun idea. You don't have to be sick or old to create a travel bucket list. Anyone can do it. It can be exciting to think about all the places you would like to visit. It would also help you with the goal of actually traveling to these places someday. Travel can be expensive, so you will probably have to save for these vacations depending on the places you have in mind.  Here are some things to consider when you are creating your travel bucket list. 
Make a list of places you would like to go. Find out where your family would like to go too. Disney vacations are usually on kid's travel bucket lists.  Don't let price deter you it's good to dream big. You never know what the future will bring. Even if you are struggling financially right now, hopefully you won't always be.  
Think about what kinds of activities you and your family would like to do. Maybe you would like to go zip lining or snorkeling. Try and incorporate those activities with the destinations. You will get more bang for your buck and you can also kill two birds with one stone. 
Don't forget about places that are less than glamorous. If you want to go to all the 50 states make sure to make that goal. If you drive your car or rent an RV you can knock out some of the states by staying a night or making a day trip out of it. 
Come up with a possible budget for each trip so you know an estimate of price per trip. Don't forget things like travel, accommodations, food and incidentals. 
Try and use life events to travel, if you have a special anniversary or big birthday, consider taking a trip.  Take short weekend trips to places that are close. 
Prioritize your list by how feasible each trip is, not by where you want to go the most.  It's better to knock off places as you can. Saving the bigger trips for special events. 
Start saving for trips. Look over your budget and see how much you can comfortably add each paycheck or month. It will be different for each person. If you can't contribute every time, don't worry about it. Things come up and sometimes we have to spend a little more each month. 
Get a passport. If you want to travel to places where you need a passport, it's better to have one in anticipation of travel. You may decide to take a trip short notice and need it. Adult passports are good for ten years and children's passports are good for five years. 
Consider making it a family reunion, and see if other family members want to join you as well. You can sometimes rent a vacation home with multiple bedrooms for cheaper than multiple hotel rooms.  You can also stay with friends or family. 
I hope these tips help you to make your perfect Travel Bucket List. Traveling together makes life long memories.